What does the Bible say about budgets?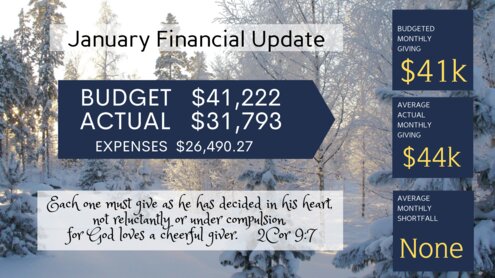 This season is dominated by thoughts about the next fiscal year budget. In previous years we would have ministry leaders in place for all the ministries that will be active in the next fiscal year. We would have some idea of the large events or outreach that we plan to do in the next fiscal year. However, our church is now at a point where we have very few active ministries due to COVID shutting them down as well as a reluctance of volunteers to start them up again. There are so many unknowns for the next fiscal year that I am looking at other ways to form the budget for the next fiscal year that will allow us to hire a Senior Pastor and allow for some ministries (new or old) to start up and be successful.
The Bible doesn't use the word budget, but it talks about stewardship. Joseph's story is well known where he is tasked as the steward of Pharoah's land and "budgets" by storing resources to prepare for the times of famine. (Genesis 41:39–41) What a blessing he was to the land where he lived but also reaching to other lands where people came to ask for help during the famine.
Not having a lot of activity that we had before keeps our expenses low and, especially important, below our income. You can see that in the graphic above. We are in good shape financially and continue to maintain more than a 3 month reserve in our general fund balance.
Budgeting is an act of discipline and some would say a show of the fruit of the Spirit called Self-Control. I definitely agree. We continue to stay within the boundaries of our budget and add to our general fund balance because "The wise have wealth and luxury, but fools spend whatever they get" (Proverbs 21:20, NLT). I am thankful for God's hand in caring for Meadows Christian Fellowship and I take seriously the role of stewardship on your behalf. If you are a member of the church and wish to have more detailed finance reports please feel free to request it. Ask via email: atreasurer@meadowsfamily.org or ask on a Sunday and I can get that to you as soon as possible. Please join me, as well as the elders and staff, in prayer as we consider the budget for the next fiscal year.