The Lord loves a cheerful giver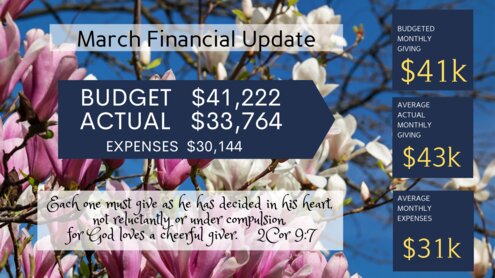 Tomorrow we have our business meeting where we affirm a new elder and vote to accept the budget. You should have received an email with the budget attached 2 weeks ago. Look for it in your inbox from Mary Crook. We will have a hardcopy at the meeting tomorrow if you need it. We will meet from 11-12 and enjoy a delicious meal prepared by Dewight Johnson. He is an answer to prayer please make sure to thank him (and all our volunteers) for their service. Let's especially thank Tim Copeland and Jim Herold for their service as Elders. Don't forget to thank Mary for all her hard work learning so much and embracing updating the website and using her creative gifts and gifs of administration.
"Each of you should give what you have decided in your heart to give, not reluctantly or under compulsion, for God loves a cheerful giver". 2 Cor 9:7
You can see in the above graphic that we have much to be thankful for as a church. You all are a testimony to the Bible verse above. I can tell that you prayerfully consider what you will give. You will find out tomorrow that our finances are in good standing and ready for the new fiscal year and all that it holds. It is a blessing to report on our March finances with 104% of the YTD budget met. It's great to see that we will finish this fiscal year strong with more than a 3 month reserve available for the future.
If you are a member of the church and wish to have more detailed finance reports please feel free to request it. Ask via email: atreasurer@meadowsfamily.org