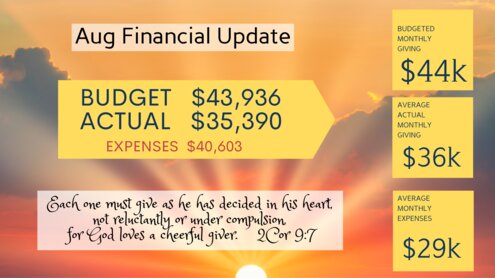 Our expenses exceeded our income this month but did not exceed the budgeted amount. We paid the remaining amount for the seal coating of the parking lot and had our annual test of the fire alarm system where they found some repairs to be made. Seal coating will only have to be done every other year going forward. We also had expenses to repair the van after the catalytic converters were stolen. Next month will reflect the insurance payment received to offset this expense.
We sent a check from the Catch the Wave Church Planting fund to Uncommon Church where Pastor Bee is planting the church in Lisbon, IA. This will allow him to get signage for the church and other marketing materials. We will share more at the Fall Business Meeting in October.
The sun has set on summer and we move into a favorite season for many. Autumn brings colorful leaves and crisp evenings to have a bonfire and enjoy time with friends. Today is that fun fall activity of Homecoming at the Rolling Meadows High School. The date that the football team comes home for their first game after having several away football games. Those of you who know me are impressed that I know this because I didn't even watch the "BIG GAME" last weekend. : ) When my oldest was in High School I went to the games to see the marching band. He played trumpet. I miss those days. The thrill in the air, the cheering, the drum core escorting the team on the field, the kids running with the RMHS flags when they would get a touchdown, the sound of the band playing pep tunes and the halftime show that they worked so hard to memorize and perform.
There's a homecoming that I look forward to even more. As a Christian we know this verse well:
In my Father's house are many mansions: if it were not so, I would have told you. I go to prepare a place for you. John 14:2
It's humbling and awe inspiring to think HE prepares a place for you. Our God loves us so much that he prepares a place for us in heaven. A homecoming like no other. We will see friends and family who have gone 'home' before us. Imagine the marching band we will enjoy there! : )
Tell me what you look forward to with this homecoming in heaven.